19: ANYWAY HERE'S WONDERWALL (dedicated to Hunter)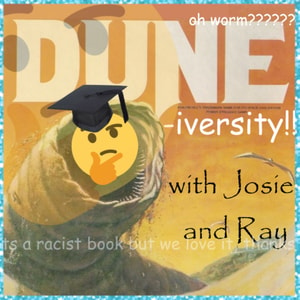 THIS VERSION IS FIXED NOW SORRY
IT IS FIXED NOW
Does Dune believe in heaven? Is suffering good? Is Frank Herbert an ecofascist? How to make a podcast? Is cancellation a real thing? Is civilisation the disease which is eating us? How do we create a paradise of the mind? Do you like my tight sweater? See how it fits my body!
NONE OF THESE QUESTIONS ANSWERED, AND MORE ON DUNEIVERISTY!!!!!!!!!!!!!!!!!!
This episode, the boys (us) are back in town, here to talk to you about bereavements, Lawyer Brain, Diane Diprima and concatinating the silences. We've got all the duneiversity classics! We live react to a song for you! Mad world is here! We have Email!
We continue to be a dune-der critical podcast despite not knowing any things, and we also hope that you enjoy lots of rustling and background noise that I don't really know why it's there (???)
PLEASE email us at [email protected], we're begging you.
You can find Ray's podcast about NARUTO at narutohead.band or @narutohead_band, if you don't like Naruto and you love BAD SOUNDS you should definitely listen to it.
Find out more at https://duneiversity.pinecast.co