16: DUNC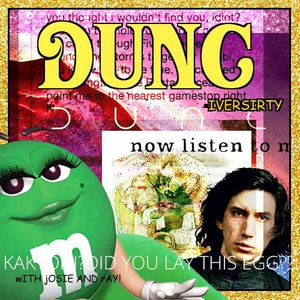 Kakyoin, did you lay this egg?
HEY BITCH! BET YOU THOUGHT YOU'D SEEN THE LAST OF US!
THE TWO CHANCELLORS OF THE DUNEIVERSITY HAVE AWOKEN FROM THEIR LONG SLEEP TO BARELY DISCUSS A SINGLE CHAPTER OF DUNE! MOSTLY WE TALK ABOUT HOW WE HAVE BEEN DOING FOR THE PAST, UH, FIVE MONTHS AND ALSO ABOUT BAD TV WE USED TO WATCH.
Join us on a journey of heavy-handed political machinations, genocidal plotting, and over-explanations, eh? Also we watch the trailer for the DUNE MOVIE, introduce two NEW SEGMENTS, and go on flights of fancy about being a HEDGEHOG who makes clothes for Timothee Chalemet, who is only ONE INCH TALL.
We're anti-podcasting the heck out of this one, so if you appreciate bad ear experiences, including technical difficulties, a 9 minute cold open, and abrupt musical choices, you're welcome.
What do I say at the end of these? Oh yeah, you can email us at [email protected]! Visit narutohead.band for another podcast that Ray is on, and check out Let's Get Weirding for a podcast where they actually talk about Dune! Thank's.
This podcast is powered by Pinecast.