14: Jessica Become Gregnant???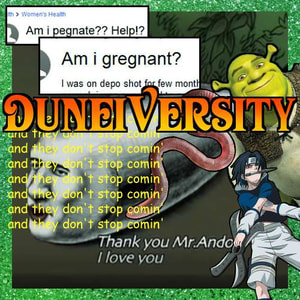 And they don't stop coming...
DOES JESSICA IS GREGNANT? WHAT HAPPENED TO DUNE VOICE? DO WE LIKE VELVET WORMS, OR DO WE NOT? DOES THIS SEXY FREMEN MAN HAVE A NAME? IS THUFIR HAWAT? A PIECE OF SHIT? AND FELLAS??? IS IT GAY? TO SPIT IN A BAT'S MOUTH?
Welcome scholars to the 14th episode of Duneiveristy, in which we don't answer any of these questions, but we do have a wonderful brain genius guest, Sarah! On this be-guested episode, we drink our own nasty body water, sing songs, and are beautifully serenaded by the flute. We learn that cum is stored in the head, pay homage to the only movie that exists, and have a lot of fun learning terrible things through a DUNE QUIZ kindly provided by our favourite guy Dr Tim!
If you'd like to join the VolCel sibling-hood, please email us at [email protected] You can find Sarah's wonderful Yu-Gi-Oh podcast Pod of Greed on Itunes, Spotify or your app of choice! You can find Sarah on Twitter @Sarahmccostumes.
This podcast is powered by Pinecast.