6: How 2 Dougie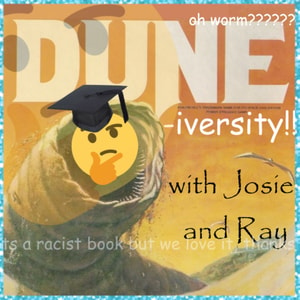 WHAT IS IT TO DOUGIE?
HAS LETO EVER CRIED? DUNE ANIME WHEN? IS THUFIR HAWAT BIG SEXY? ARE WE HUMAN? OR ARE WE BABY? IS DANCING GOOD ACTUALLY? WHO'S THE PERFECT GURNEY HALLECK CASTING? ALL QUESTIONS WE DON'T ANSWER! IN DUNEIVERSITY!
This episode, the Good Chancellors forget how to Podcast, don't know how to Dougie, and sing a whole bunch. It's normal and fine.
Jessica finds a garden. Paul drowns a needle and tells on his dad. Leto has an internal breakdown and is in love with Gurney Halleck and his Sexy Bald Spot.
I think we probably talk about fascism in this one. Stay safe!
This podcast is powered by Pinecast.