20: FRANK HERBERT'S FAILURE OF THE IMAGINATION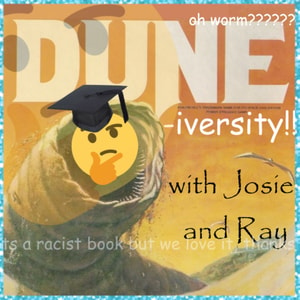 Sorry for being mean
Lump! Lump! Lump! Lump!
BAROOM!!! Pop-hop-hop! Step.... drag... drag... step.... cha... cha... real smooth... to the left!
Take it back now y'all!
One hop this time!
Are these relationships normal? Is the family a factory for making society? Is cinnamon the only spice Frank knows about? Is Dune cool, or is it bad actually? Is Frank ever going to expand on his THEMES? Has Frank ever written a poem?
NONE OF THESE QUESTIONS ANSWERED, AND MORE, ON DUUUNEIVERSITY!
This episode, we're busy turning our brains off and becoming unconscious under stress. We meet a sexy worm, a thematic bird, and some little mice that probably aren't important and don't mean anything.
We skirt around a Freudian analysis of Dune and then remember that we don't know anything, experience the sensation of time darkness, and forget Feyd Rautha's name (it's been a year!).
We take a break to do a little google about the cha cha slide, and we wonder WHAT COULD BE IN THIS MYSTERIOUS FOLDER???
If you know any poems that Frank wrote, send them to us at [email protected] We like it! If you don't know any poems that Frank wrote but you just want us to see a poem, send them to us at [email protected] Please!
You can find Ray's podcast which is ostensibly about "Naruto" at narutohead.band or @narutohead_band. If you've ever wanted to join a cult, now is a great time to do that (unrelated).