10: Paul Goes to Party College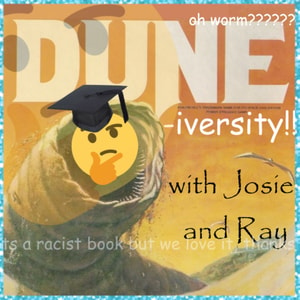 Did a bad job on this one friends, join me in hell
AAAAAAAAAAAAAAAAAAAAAAAAAAAAAAAAAAAAAAA
DO SLUGS EAT BONES? DO THE FREMEN KNOW THE BIBLE? WHAT IS MUSIC? WHO IS JAMIS? WHAT HAPPENED TO THIS EPISODE? THIS WEEK ON DUNEIVERSITY THE PODCAST, CHAOS REIGNS! AND WE DON'T ANSWER ANY OF THESE QUESTIONS!
In this episode, things are lost. The Podcast Gods took a tribute from us as is their due, so take the tattered remains of our content. We listen to the cowboy song, we discover DOON, Jessica is the best, Yueh has a homoerotic villain speech, and we meet a looooooooooooooooooooong furby. Also, we are joined by Ell, @occasionalell on twitter! Ze uses Ze/Zem/Zer pronouns.
In other news, we are switching to a bi-weekly schedule so that we can build up a buffer and so that I don't die. If you need your dissertations checked, please email us at [email protected] !
This podcast is powered by Pinecast.