2: The Lonely Boys Club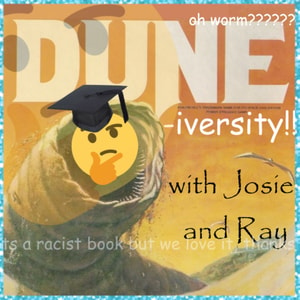 The Twin Chancellors discuss lonely boys, greek myths, latin poetry, and rupi kaur
WHY IS FRANK HERBERT REALLY GOOD AND REALLY BAD AT THE SAME TIME? WHO WILL WRITE A TONE POEM FOR OUR SAD TIMES? IS PAUL'S DAD GONNA DIE? ARE THE BENE GESSERIT ALL LESBIANS? WHY CAN'T JESSICA BE HAPPY? ALL QUESTIONS WE DON'T ANSWER IN DUNEIVERSITY!
TW: this episode contins references to institutional paedophilia between minutes 14 and 16. We don't go into detail, but look after yourselves!
Also, a correction to something Ray phrased badly early in the episode: being a woman and carrying the expectations of womanhood is hard whether or not you are raised as a woman or currently identify with womanhood. It's hard folks. Gender.
Find out more at https://duneiversity.pinecast.co