17: SANDSTORM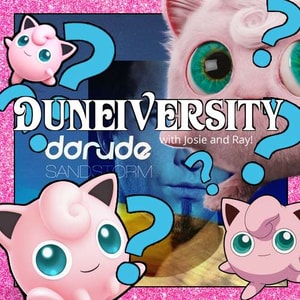 Is Dune good???????????????????
HMM SOME WEIRD VIBES IN THIS ONE, FRIENDS!
This episode, Josie has a CRISIS OF FAITH, Ray QUESTIONS THEIR TASTE, Paul shares an AXIOM and Jessica FALLS IN A HOLE. TWICE!
We also talk about Jigglypuff for the first five minutes, The Roney (skip these bits if you don't want to hear it, sorry!), Idyllic Lesbian Lifestyles, And the Flaws of Frank.
This episode is profoundly Dune Negative so we are sorry to anyone who likes Dune! This is a Dune disrespecting podcast but we do respect... You, listener. Thank you for sticking with us during these UNPRECEDENTED TIMES!!!!!!!!!!! Hoping to bring more Dune to you soon!
If you'd like more of Ray, you can catch them on the Podcast Never Believe It, a Naruto De-Watch Podcast, at Narutohead.band. If you'd like more of Josie, TOO BAD!!! If you'd like a more Dune respecting podcast by some cool people, check out Let's Get Weirding! If you'd like to email us, PLEASE DO SO at [email protected] We love to hear it.
This podcast is powered by Pinecast.