5: Thots of Dune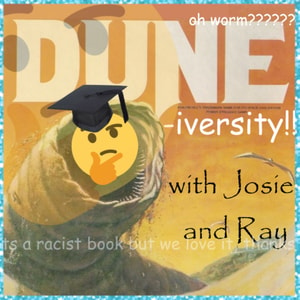 KULL WAHAD! THIS IS A REAL SHAI-HULUD OF AN EPISODE!!! AM I RIGHT FOLKS
THE PRINCESS OF JOKES NORA "FUCKING" BLAKE JOINS US THIS EPISODE TO AVOID ANSWERING SUCH QUESTIONS AS! IS PAUL A HIMBO? WHAT ARE JESSICA'S OPINIONS? WHERE'D ALL THE WATER GO? WHAT HAPPENS IN THESE CHAPTERS?
The good Chancellors and their very clever and funny associate lecturer read two more chapters of Dune! The aneid is interesting, Frank is racist, Recapmon is here; we do morrissey impressions and learn about jerboa. It's good, and you like to hear it!
You can follow us at https://twitter.com/duneiversity and follow our Graduate Nora at https://twitter.com/NeitherNora . Listen to her good podcasts!
This podcast is powered by Pinecast.