8: Liet Kynes Respecting Juice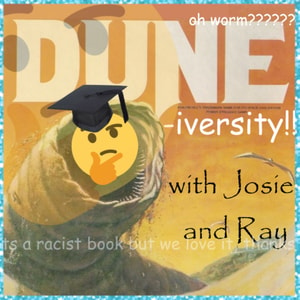 welcome to the depressioncast, brought to you by verison
THE KYNES RESPECTERS HAVE LOGGED ON!!!!
OUR SINCEREST APOLOGIES FOR NOT READING THE BOOK ALL THE WAY THROUGH BEFORE DOING A PODCAST ABOUT IT, DON'T @ US! WHO SINGS MËLISSA'S PLACE? WHAT ARE ALL THE DIFFERENT TYPES OF SAND? WHO'S LIET? ALL QUESTIONS WE DON'T ANSWER ON DUNEIVERSITY!
On this episode, it's a mad world. All around us are familiar faces, worn out places, worn out places. Paul realises his daddy is a person with flaws, Kynes refuses to properly address a Duke, the myth lingers in his words and thoughts, and a spice carrier gets swallowed by a big old worm.
Please email us at [email protected] !
This podcast is powered by Pinecast.