12: BROOMP BROOMP! TIME TO DIE: Hellspisode Part II The Musical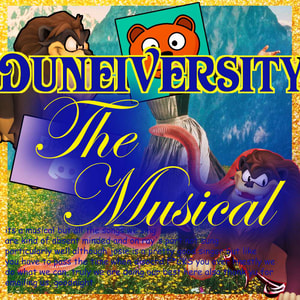 This is a musical episode, you're welcome
BROOM BROOMP!
THIS IS THE CHAPTER WHERE LETO DIES! TO COMMEMORATE, WE BRING YOU! TO HELL!!!! LETO PROBABLY ISN'T IN HELL, BUT WE SURE ARE SO YOU'LL HAVE TO MAKE DO. ALSO, WE GOT AN EMAIL SO THAT'S PRETTY COOL!
DOES ANY OF THIS SHIT MEAN ANYTHING? OR HAVE WE BEEN COAXED INTO A CULTURAL SNAFU, EMBEZZLED INTO READING AUTHORIAL INTENT WHERE THERE IS NONE, BAMBOOZLED INTO MISTAKING THOUGHTLESS ABSTRACTION FOR CLEVER PROSE THAT'S JUST A BIT BEYOND OUR LEVEL? DO YOU USE METAPHORS FOR A REASON, FRANK, OR IS THIS JUST A GAME TO YOU? YOU THINK WE'RE ONE OF THOSE COMEDY PODCASTS, FOR JOKES?
This chapter, Leto finally dies. Yueh goes down with him, and so does Piter, so really what is left for us here anymore? Nothing. That's pretty much all that happens, probably.
If you like our singing voices, please send any enquiries to our agents at [email protected]
THANK'S
This podcast is powered by Pinecast.