7: This is a Podcast about Game of Thrones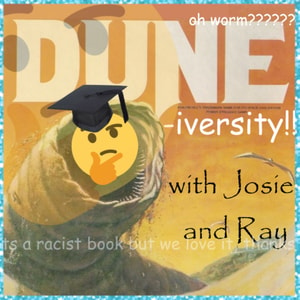 and it's good.
WE'VE BEEN POUNDED IN THE KULL WAHAD BY OUR OWN KULL WAHAD! WE'VE BEEN HOISTED BY OUR OWN PETARDS! THIS EPISODE IS POSTED SPITEFULLY LATE BY YOUR VICE CHANCELLOR, WHO IS ANGRY!
CAN OSCAR ISAAC BE MEAN? WHAT'S PODCATCHING? WHAT IS PAUL'S FURSONA? WHEN DOES THE PODCAST ACTUALLY START? ALL QUESTIONS WE DON'T ANSWER IN DUNEIVERSITY!
In this episode, your vice chancellors reluctantly discuss these two chapters, admire Duncan Idaho, the sexy cat of a man, and wonder if Paul actually has a personality. We drag Erik (sorry Erik) and finally have listener questions! Also, we watch the video for Doctor Worm live on air.
Anyway please email my wife, by which I mean my podcast fanmail address.
This podcast is powered by Pinecast.