15: WE LOVE THE TUBE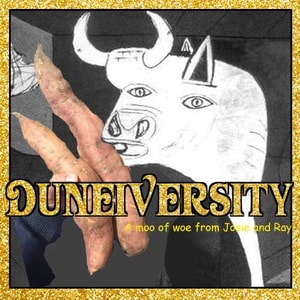 In which we have eyes
WE ZAGGED ON YOU!!!! We did this by not releasing any episodes for another month, but you have probably come to expect this by now. What's up.
WILL PAUL EVER CALM DOWN? WHAT DOES IT MEAN TO 'SNICK'? HEY UH, DID, UM, DID DUNCAN IDAHO JUST DIE? HOW TO PRONOUNCE PLANETOLOGIST? THESE ARE ALL QUESTIONS THAT WE RESOLUTELY DO NOT ANSWER, IN DUNEIVERSITY!
In this episode, we recognise the fact that we have eyes, we go back to poetry school, we talk lots of irrelevant nonsense about our lives, and we only read one chapter. We also venture into a different kind of pickup artistry, establish a well known and beloved catchphrase to be used to many episodes to come, and we ľ̸̢̧̢̡̨̺͚̟̰̤͙̫̃̈́̄͒̈́͒̽̅͆̾̎̄̀͆o̶̜̯̪͑͋͌̇̍̉̂́̿̎̚v̷̨̠̱͍̗̯͉͍̜̦̮̼̈́̽e̸̜͉͔͉͍̟̒̽ ̴̝͖͖̺͓̳͙̖̗͎͍̟̓̍͒̐̓͑̈̋̀͊t̶̡̨̬̱̩̞̘̲̹͉̅̑̉̀̔̾͐̊̈́̚h̶̨̢͚̙̘̟͇͚͇̫̼͗̓́̃̀̄͋͊e̶̱̙̫͇̰͙͔͇̤͛̈́͐̓̋̒̕̕͠͝ͅ ̷̳̬̥̒̐̾́̽̓͗͜͝t̷̪̣̺͈̗̹̯̺͎̩̩͈͒̓͌͂̕ͅų̷̛̖͓̱͉̫͑̏̊̾̒̈͝b̶̳͖̺̋͛͝ͅē̸̡̧̨̟̟̰͖̩̪̥̺͉̥̖͜.
Join us on our academical adventure through Dune land and appreciate a long long man. If you'd like to express your love for the tube, please email us at [email protected]!
Behold The Tube
This podcast is powered by Pinecast.